Export:
The first step is to export the desired offers.
Go to the Marketplace offers tab on the desired marketplace, select the offers and press Download.
When you export the products, you will receive an e-mail with the completed file.
You can also download the exported file by pressing the notification button according to the image below: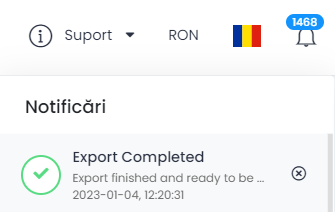 Note: the offer internal ID column is mandatory because this is the offer identifier.
Import:
Through this function you can modify the information in the offer such as: Name of the offer, brand, description, images, etc. and at the same time you can add the required attributes.
Step 1
Go to the Marketplace offers tab on the desired marketplace, and press Import.
Upload file for Excel or URL for Feed

Step 2
The characteristics of the products are noted in separate columns, e.g. Name attribute / Value attribute (e.g. Size / S) and are mapped with Characteristic Name / Characteristic Value
The categories in the file are mapped to those in easySales, for example:

Run the import.
The maximum limit for importing/updating through a feed (URL) is 20 MB.
If you already have a characteristic set on the offer, you cannot change it through this import because it adds a new one.
You need to delete the characteristic initially added from mass editing (details here) and then add the desired characteristic by running the import.